Places to enjoy JINRO Soju in Korea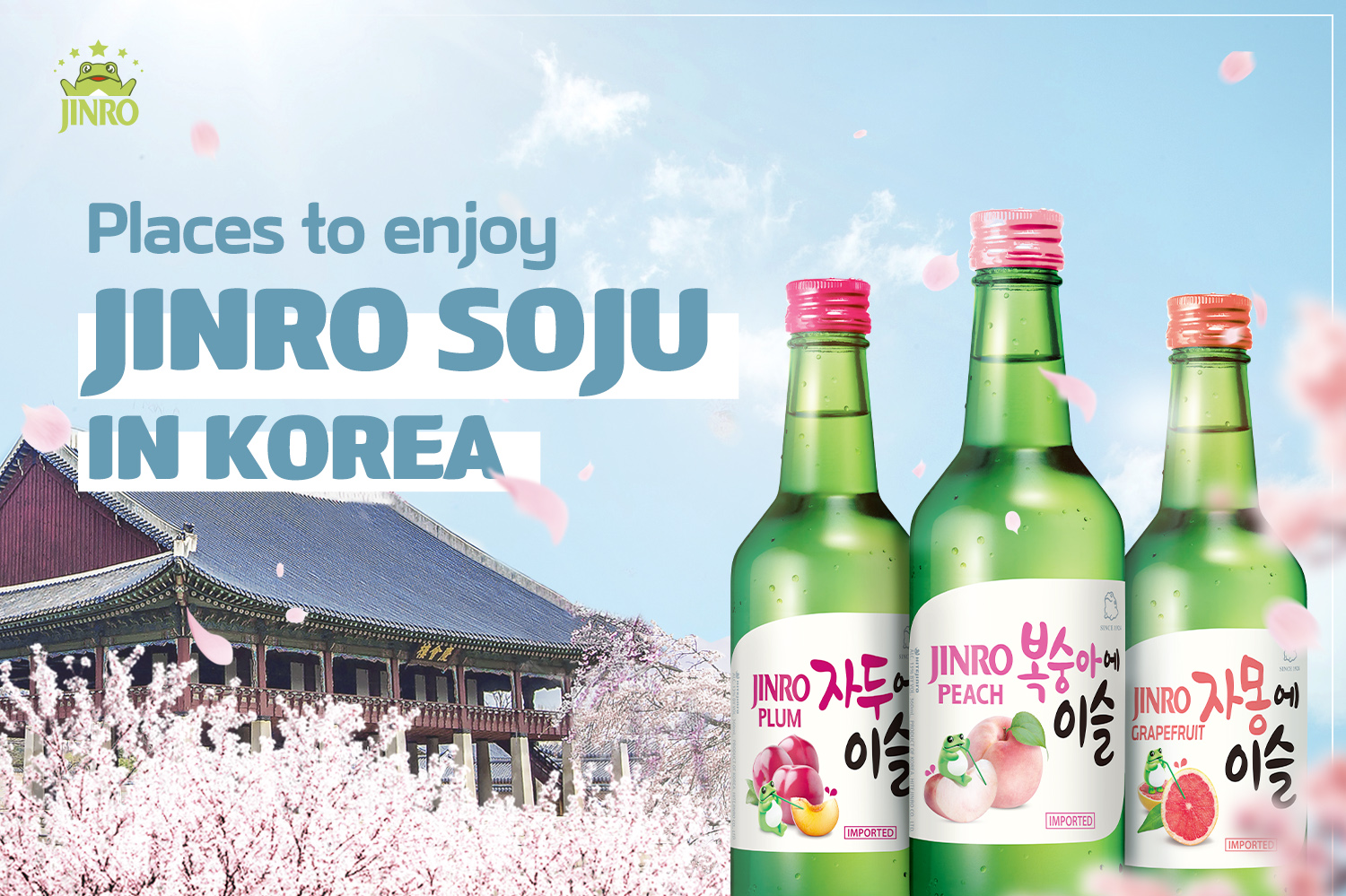 There are many fascinating places to enjoy JINRO soju in Korea: stunning beaches, mountains, big cities with delicious restaurants, and exclusive food.
JINRO has a long history, with the brand dating back to 1924, so now it's almost inseparable from Korean cuisine and culture. It is famous for its smooth taste and versatility. Therefore, if you are traveling in Korea, it is the best choice to accompany your traveling with JINRO soju.
Climb Namsan Tower in Seoul and drink JINRO Green Grape Soju with the view!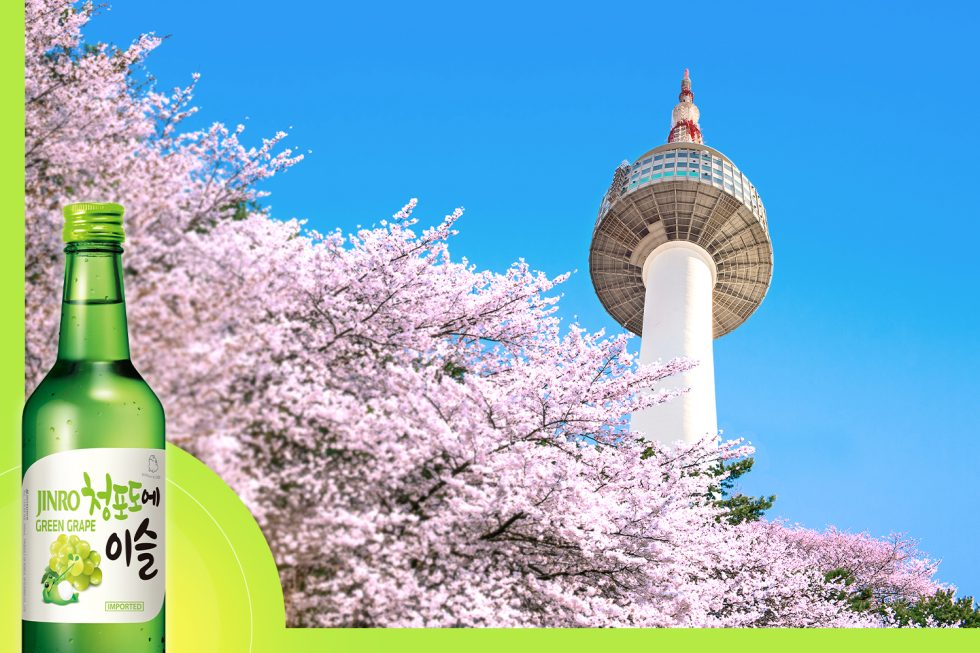 Namsan Tower is a communication and observation tower located in Seoul. It is also called the N Tower and is a popular tourist destination, offering city views and serving as a symbol of Seoul. You probably saw it in dramas like "True Beauty!"
Many K-Dramas feature scenes from the Namsan Tower because it's a famous romantic place for dates. Couples bring locks in a shape of a heart to the bridge and believe that if they put it there, their love will last forever. It's a perfect spot for a picnic with a love interest with a gorgeous Seoul view.
If you see the Namsan Tower, JINRO Green Grape soju can be a perfect fit! It has a lower alcohol content – 13%, so it is a good option for drinking outside.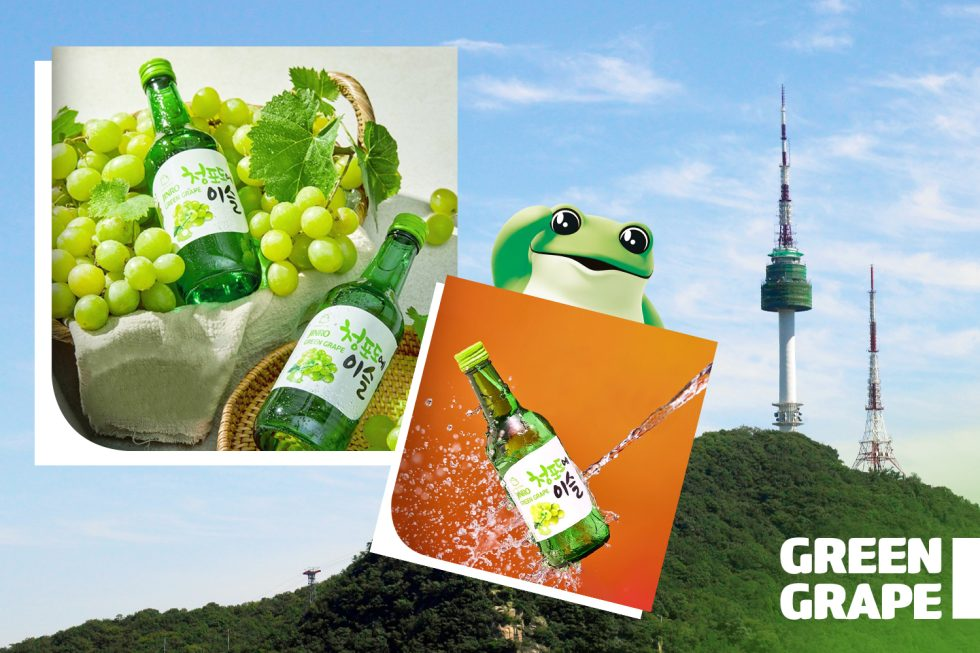 JINRO Green Grape soju offers a unique and enjoyable taste for those looking to enjoy an approachable and fruity drink with a romantic view of Namsan Tower.
Eat the famous snow crab and enjoy drinking JINRO Chamisul Fresh Soju in Pohang!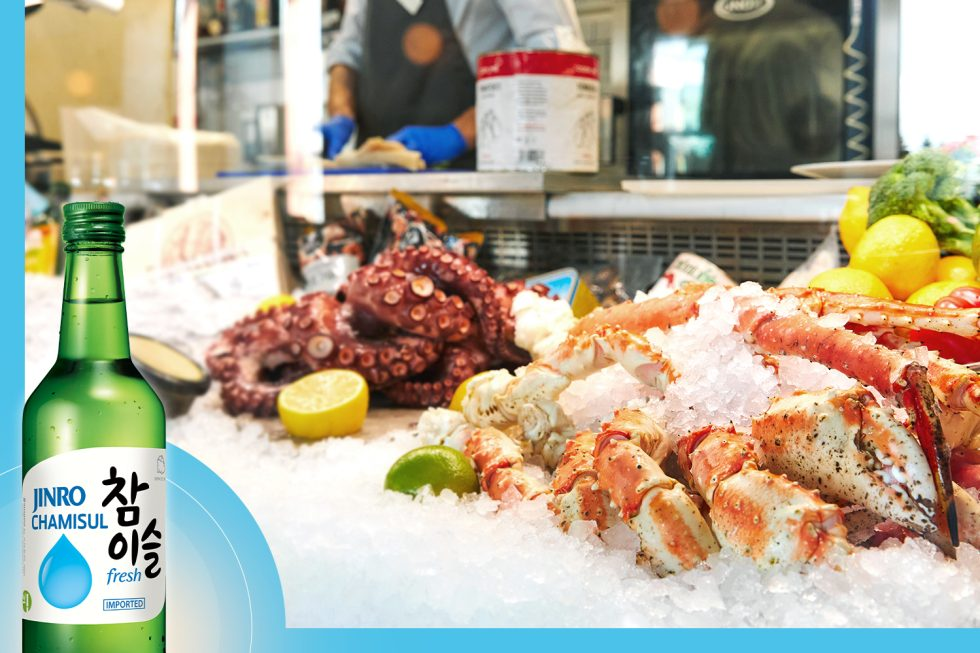 Pohang is a city located on the southeast coast of South Korea and known for its seafood, including the famous snow crab! Snow crabs are considered a delicacy by food enthusiasts worldwide.
The crab from Pohang has sweet, juicy meat and is very high quality, with many nutrients and proteins. That's why a 2-hour trip from Seoul by KTX train is worth it!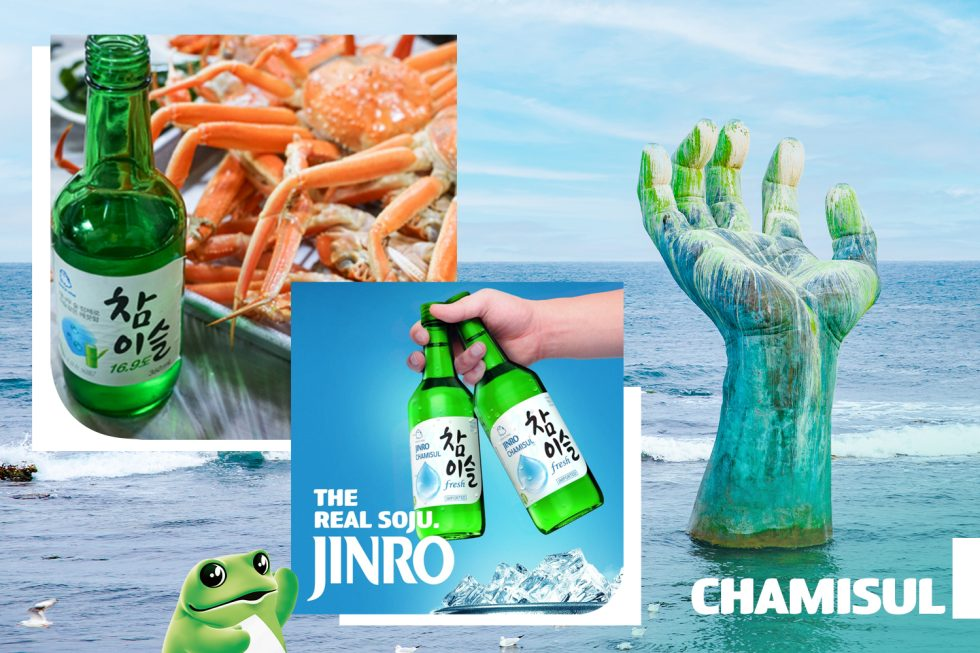 You may visit one of the local seafood markets, such as Pohang Jukdo Fish Market. You can choose the size or quality of the snow crab you want. It has different side dishes: raw fish bibimbap, potatoes, corn on the cob, coleslaw salads, steamed artichokes, etc.
One of the most popular dishes among locals is fried rice served with the crab's head. And, of course, crab tastes better with JINRO Chamisul Fresh soju! Due to its smooth and refreshing taste, JINRO perfectly complements the taste of the tender crab meat. It's one of the experiences in Korea that you don't want to miss!
Watch the Sunset at Gwangalli Beach in Busan and enjoy JINRO Plum Soju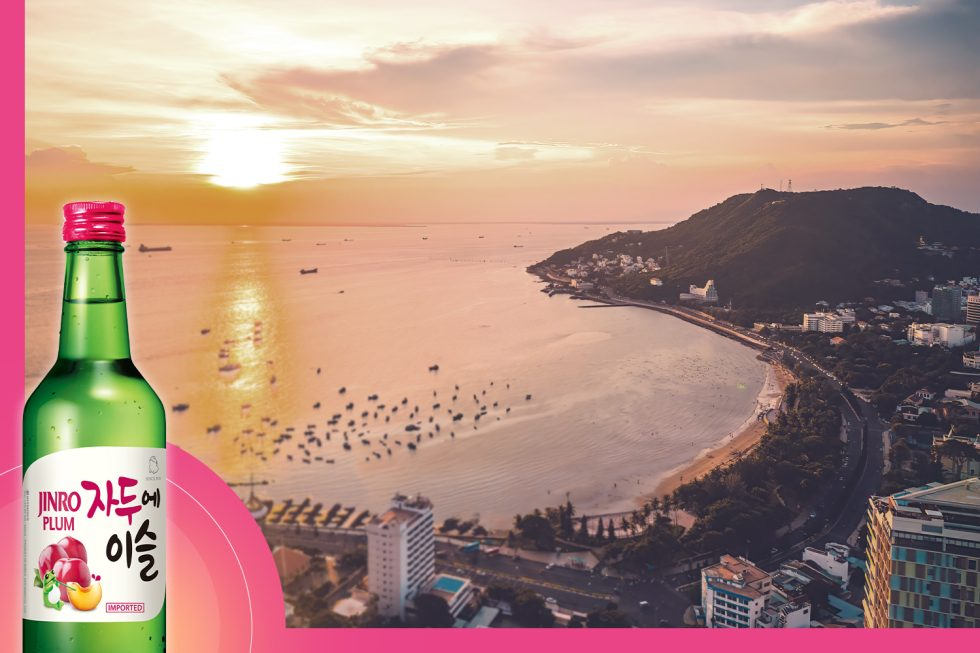 Gwangalli Beach is a famous beach in Busan, the second largest city in Korea. The beach and the city itself are famous tourist destinations.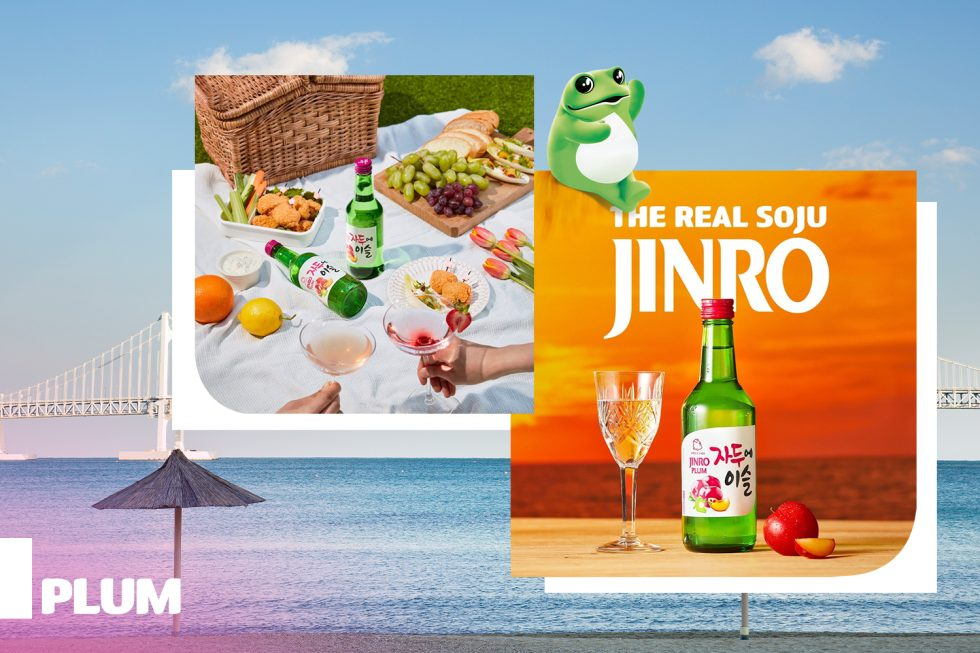 Gwangalli Beach has fine sand, clear water, and beautiful sunsets. The beach is surrounded by a promenade lined with restaurants, cafes, and shops, and you can find JINRO soju everywhere!
The beach is also home to the Gwangan Bridge, a landmark bridge that lights up at night, creating a beautiful view over the water. The bridge and the beach are popular spots for night-time activities among young people, including strolling, dining, and bar hopping. And, of course, it's impossible to imagine bar hopping in Korea without JINRO soju.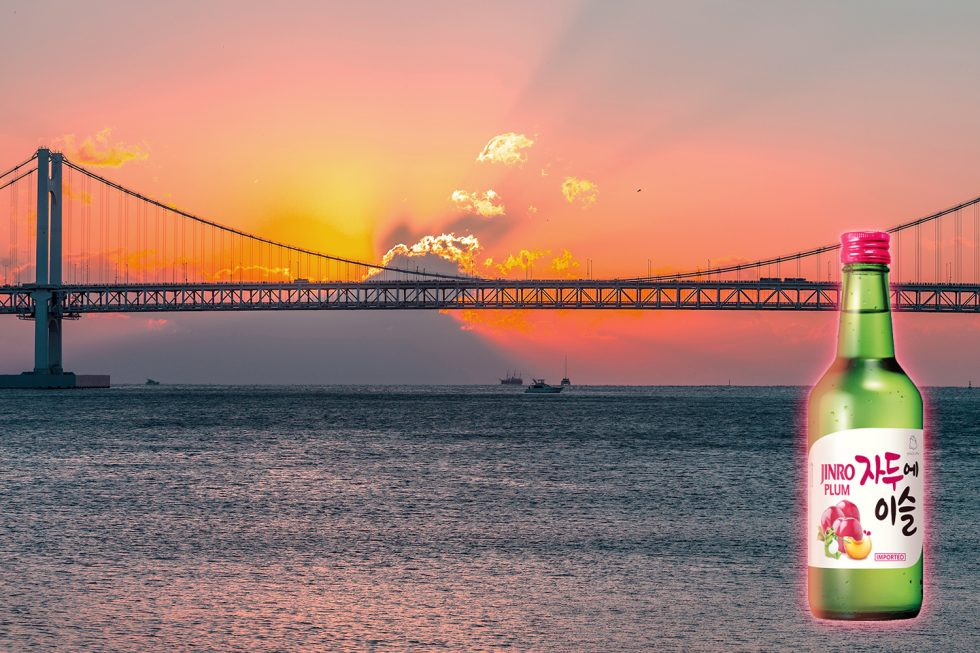 While looking at this amazing colorful sunset, you might want to enjoy soju with a sweet and mild taste, like JINRO Plum soju! It infuses the traditional soju base with natural plum, creating a unique and refreshing taste. The strong plum flavor balanced with the soju's smooth and slightly sweet taste gives a romantic vibe and a pleasant aftertaste.
What can be a better companion for Gwangalli Beach?
Eat ramyun at the top of Hallasan on Jeju Island and enjoy a sip of JINRO Grapefruit Soju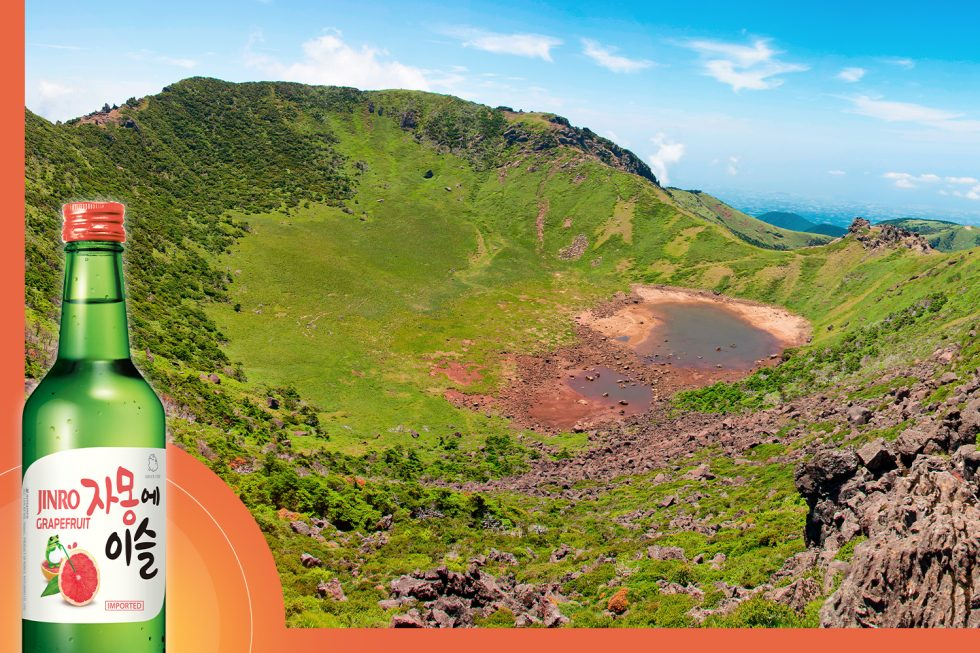 The next destination is exotic, so I suggest accompanying this experience with a drink that is not less exotic. The freshness of JINRO Grapefruit soju will go perfectly with the volcano experience, something you would never expect from Korea.
Mount Hallasan is a shield volcano located on Jeju Island. The top of Mount Hallasan is a popular destination for hikers and tourists due to its stunning views of the surrounding landscape and the crater lake, Baengnokdam, located at the summit.
Just so you know, the hike to the top of the mountain can take 6 to 8 hours, depending on your chosen trail, so please prepare comfortable shoes and snacks.
Along the way, you can enjoy the diverse vegetation of the mountain, including subtropical forests, alpine meadows, and subalpine scrubland. There are also several interesting touristic highlights, such as lava tubes and volcanic caves, to explore.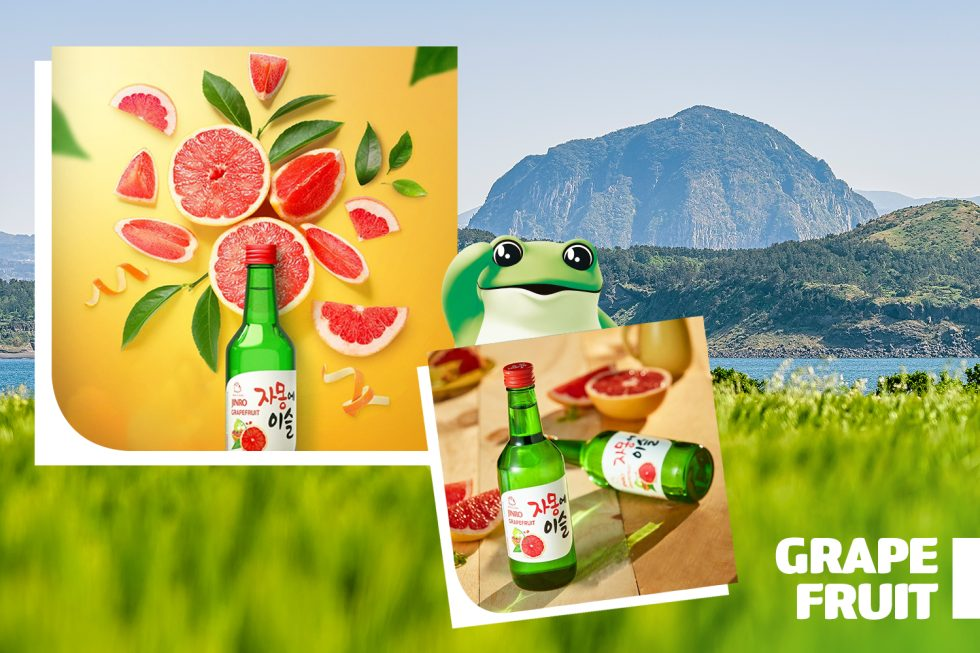 Once you reach the top of Mount Hallasan, you can take in the panoramic views of Jeju Island and the East China Sea. You can also visit the crater lake and admire its crystal-clear waters. The best food choice for such a location is something simple to do and warm, like ramyun! It's also light so you will have more space for JINRO soju in your bag!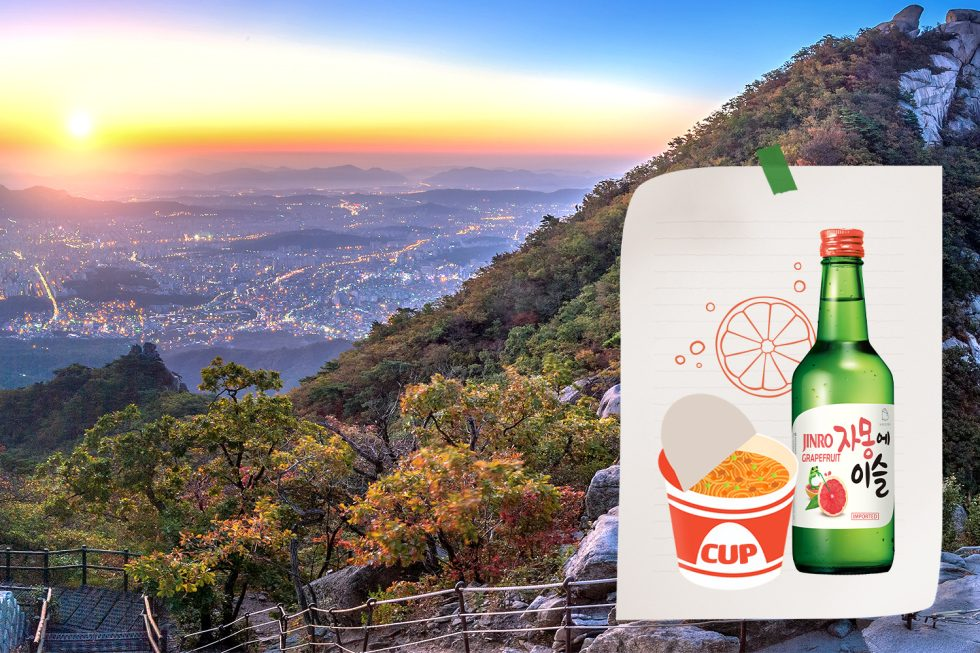 Take a yacht and enjoy raw fish with JINRO Peach Soju while enjoying the view of the island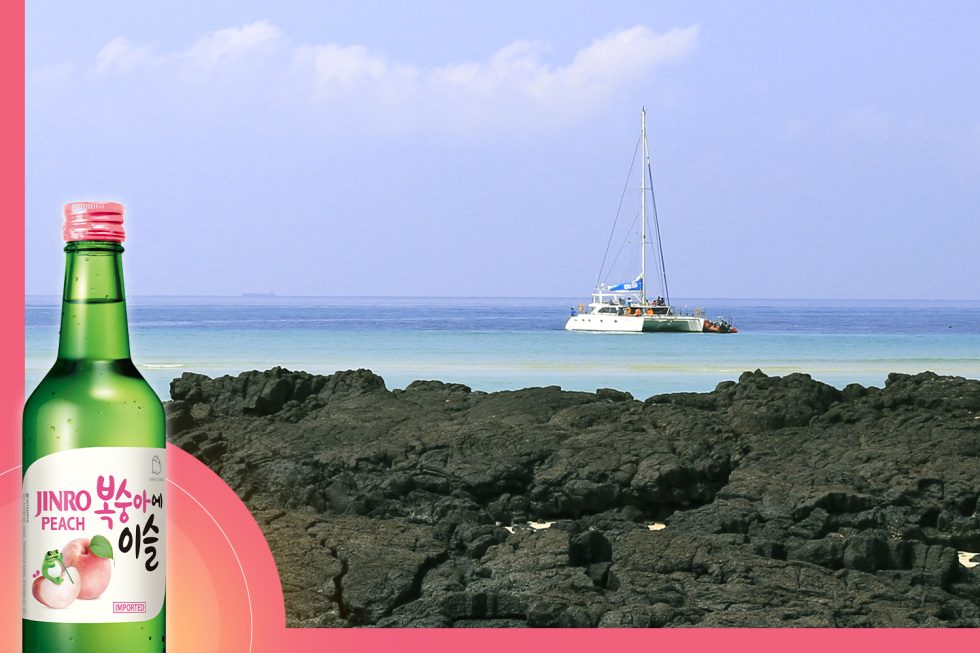 Taking a yacht on Jeju Island during the summer can be a fantastic experience for those who love the ocean and sailing. It is also an opportunity to escape the city's hustle and bustle and experience the ocean's beauty and tranquility. Jeju is known for its scenic beauty and abundant marine life as beautiful and diverse landscapes surround it. While yachting, you can swim with dolphins, whales, or seals and observe exotic birds.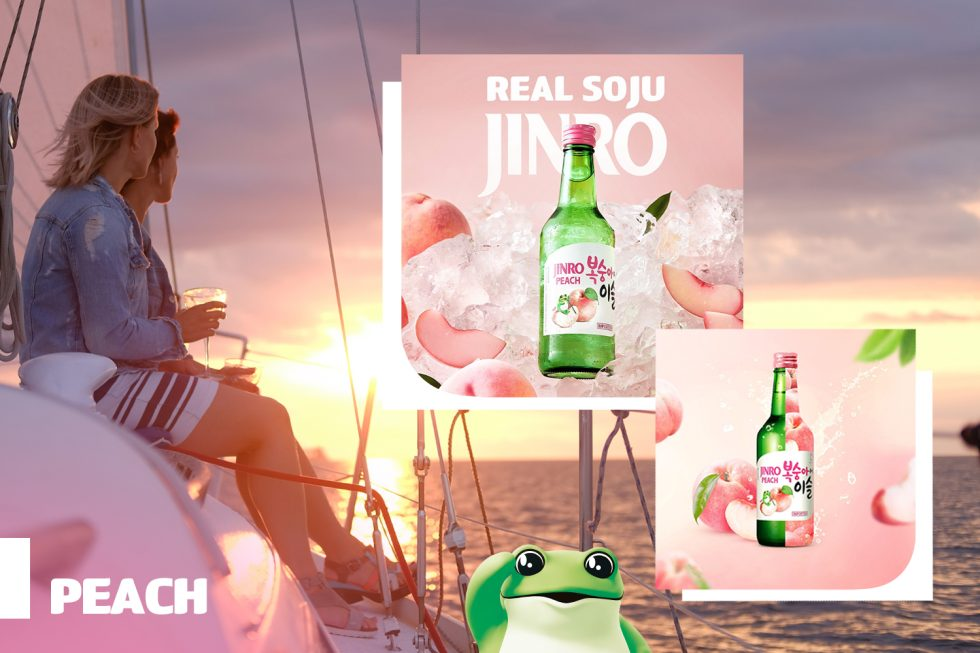 Many yacht renting companies in Jeju offer a range of sailing experiences, from half-day excursions to multi-day voyages. These companies can provide all the necessary equipment and guides to ensure a safe and enjoyable sailing experience. You can choose the route and make a list of things that you want to visit or see. Some popular destinations include the rugged coastline, secluded beaches, and small islands with traditional fishing villages.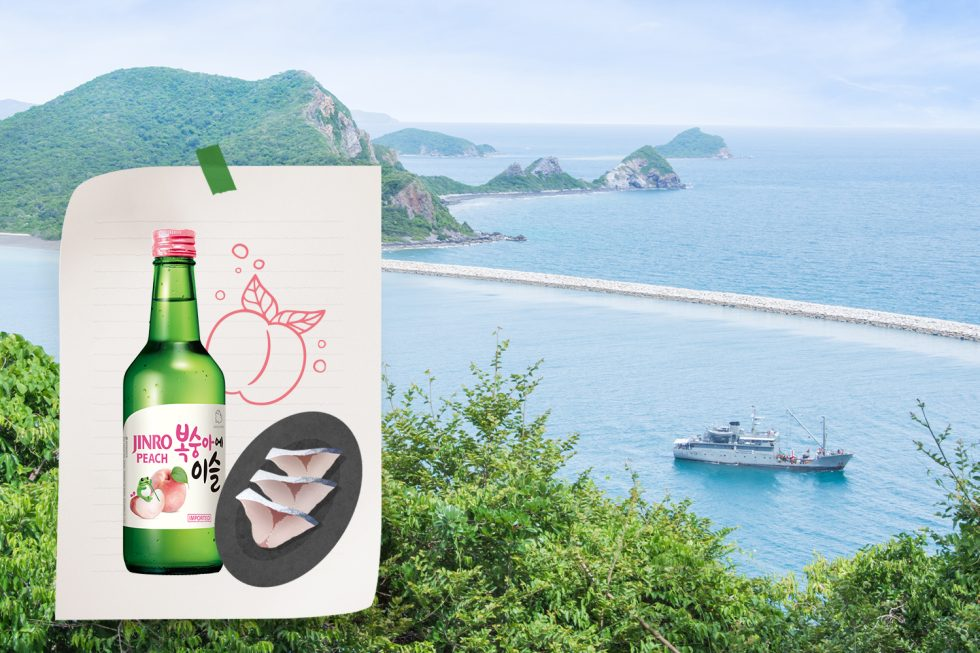 The best food for the sailing experience is raw fish! Jeju is famous for its raw fish dishes, like sashimi. It has a specific taste. Therefore, balancing it with something sweet, like JINRO Peach soju is better. This flavor has many fans because it tastes like a cocktail.